Disclaimer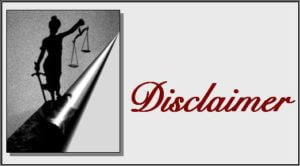 Viewing this website does not make you a client of Attorney David Romito.
The materials provided on this website are informational only. This website does not, nor is it intended to, create an attorney client relationship between any person who views this site and Attorney David Romito.
The only way to become my client is through a mutual written agreement executed by all parties. Initial inquiries or general information that you send will not be privileged, nor will such submissions immediately make you a client of mine (though any documents, specific personal financial information etc. will of course be treated with proper confidentiality).
If you are interested in retaining my firm's services, you should call my office so that we can determine if it is a matter for which we would like to accept professional responsibility. We reserve the right to decline representation on any and all matters. In addition, my firm can only give advice on Pennsylvania law and/or Federal law.
Additionally, nothing on this website should be construed as a guarantee of success in your Bankruptcy case. I cannot ever guarantee an outcome.  I can only guarantee that I will make my best effort to resolve your case in a thorough, competent and professional manner, that I will give you an honest assessment of the likely result before we proceed, and that I will bring 23 years worth of experience and dedication to ensure that the best possible outcome is achieved.